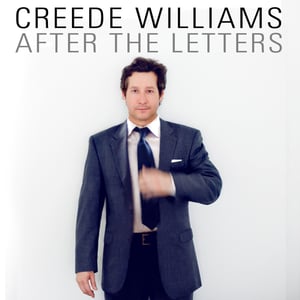 $

12.99
After The Letters was produced by Cary Pierce (Jack Ingram, Graham Colton, Jackopierce, Guster) and includes musicians such as Tommy B ( Prince, Switchfoot, Stevie Wonder), Aaron Sands (Jars of Clays, Toad The Wet Sprocket, Caedman's Call) and Greg Suran (Goo Goo Dolls, Five For Fighting, Jewel ), who helped Williams augment his songs into a collection of '90s-influenced, radio-ready songs that surge with sincerity and catchiness. After the Letters, which shifts from the charming blue-eyed soul of "Telegirl" to "Letting You Down," a compelling, emotive duet between Williams and Leigh Nash (Sixpence None the Richer), to the subtly twangy "Every Wrong Turn," encapsulates all the elements of the human experience, distilling the nuanced and subjective nature of our lives into twelve distinct songs.
Track Listing:
1. Radio On
2. Get Away
3. Telegirl
4. Outside
5. Given You
6. Dune Road
7. I Want To Know
8. Out of Touch
9. Letting You Down (Feat. Leigh Nash)
10. 30 Days of June
11. Every Wrong Turn
12. Skateland South
**For Holiday Orders, Please Complete By December 14th – Delivery Dependent Upon USPS Transit Times And Any Shipping Delays.**
-------------------------------
All orders are shipped via USPS and typically take 4-14 days for delivery of domestic orders and 2-5 weeks for international orders.