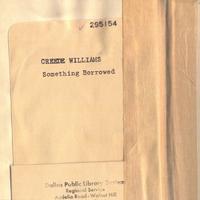 $

9.99
The independent debut release from Creede Williams is a great singer/songwriter album littered with insightful lyrics, homespun intimacy and the sly wit you would expect from a mix tape your older sister brought home from college. SOMETHING BORROWED is produced by Cary Pierce(Jackopierce, Graham Colton Band, Jack Ingram) and features band members from VERTICAL HORIZON, JACKOPIERCE and ROBIN THICKE.
Track Listing:
1. California
2. Jackson Square
3. Lately (The End)
4. How Does It Feel?
5. Shoreline
6. Finally Down
7. South of Me
8. Alone With You
9. This Time
10. Fallen
**For Holiday Orders, Please Complete By December 14th – Delivery Dependent Upon USPS Transit Times And Any Shipping Delays.**
-------------------------------
All orders are shipped via USPS and typically take 4-14 days for delivery of domestic orders and 2-5 weeks for international orders.